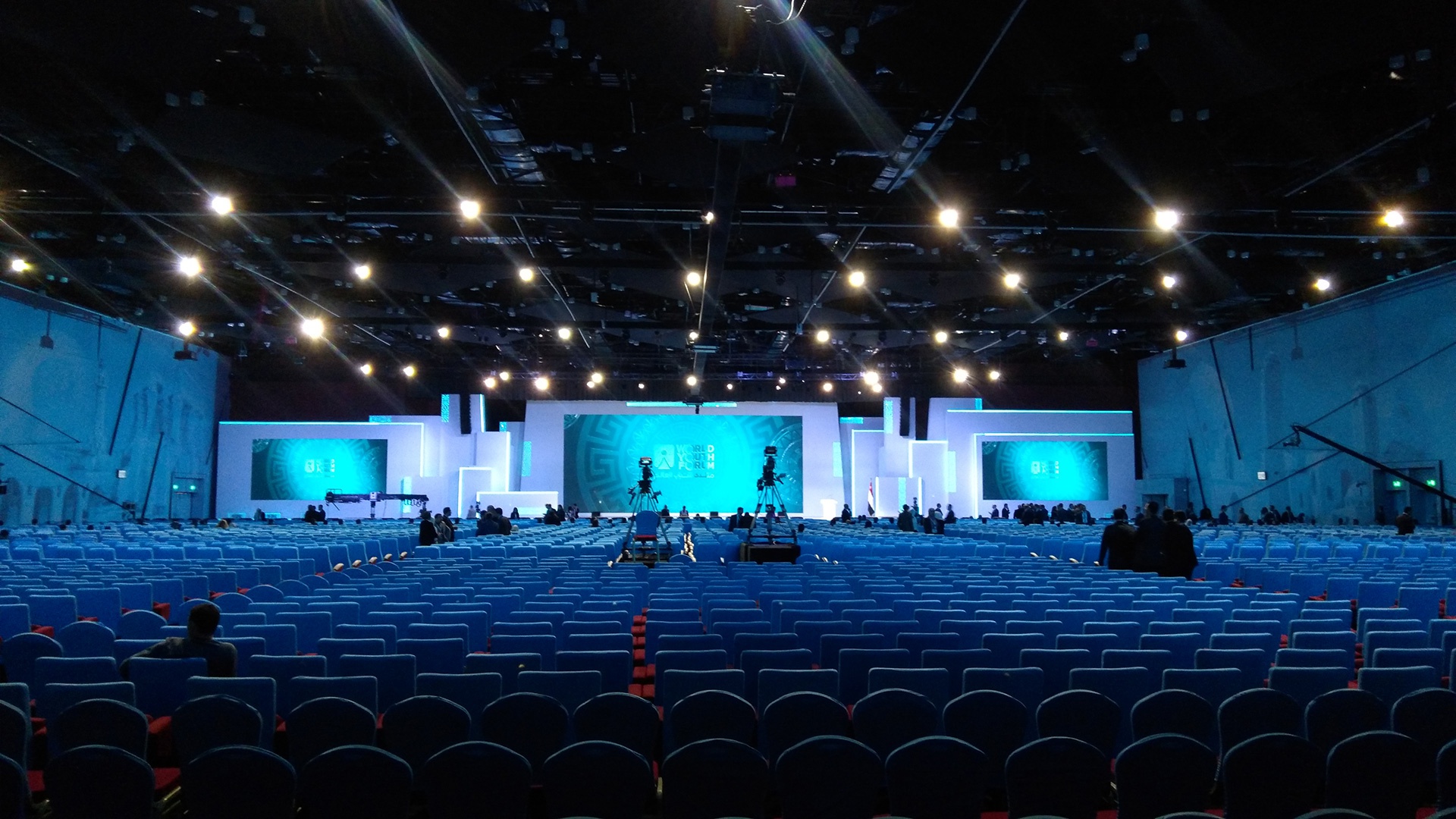 The international congress center in Sharm Elsheikh ranks among the biggest, most advanced and most successful congress venues in the Middle East. Technology K.A.R implemented the latest and most advanced technologies in the pro-AV industries, pro lighting and live event technologies.
The project started in 2005, when Technology K.A.R installed Sennhieser interpretation system, providing 2000 receivers with 8 languages. The Summit hall is serving 2,500 pax, along with other medium sized meeting rooms.
The expansion was in 2018, when Technology K.A.R worked on the new extension project, including the Capital hall that is serving 6000 pax, along with other medium sized meeting rooms. Technology K.A.R provided the international congress center with the latest and modern technology in the following main sectors;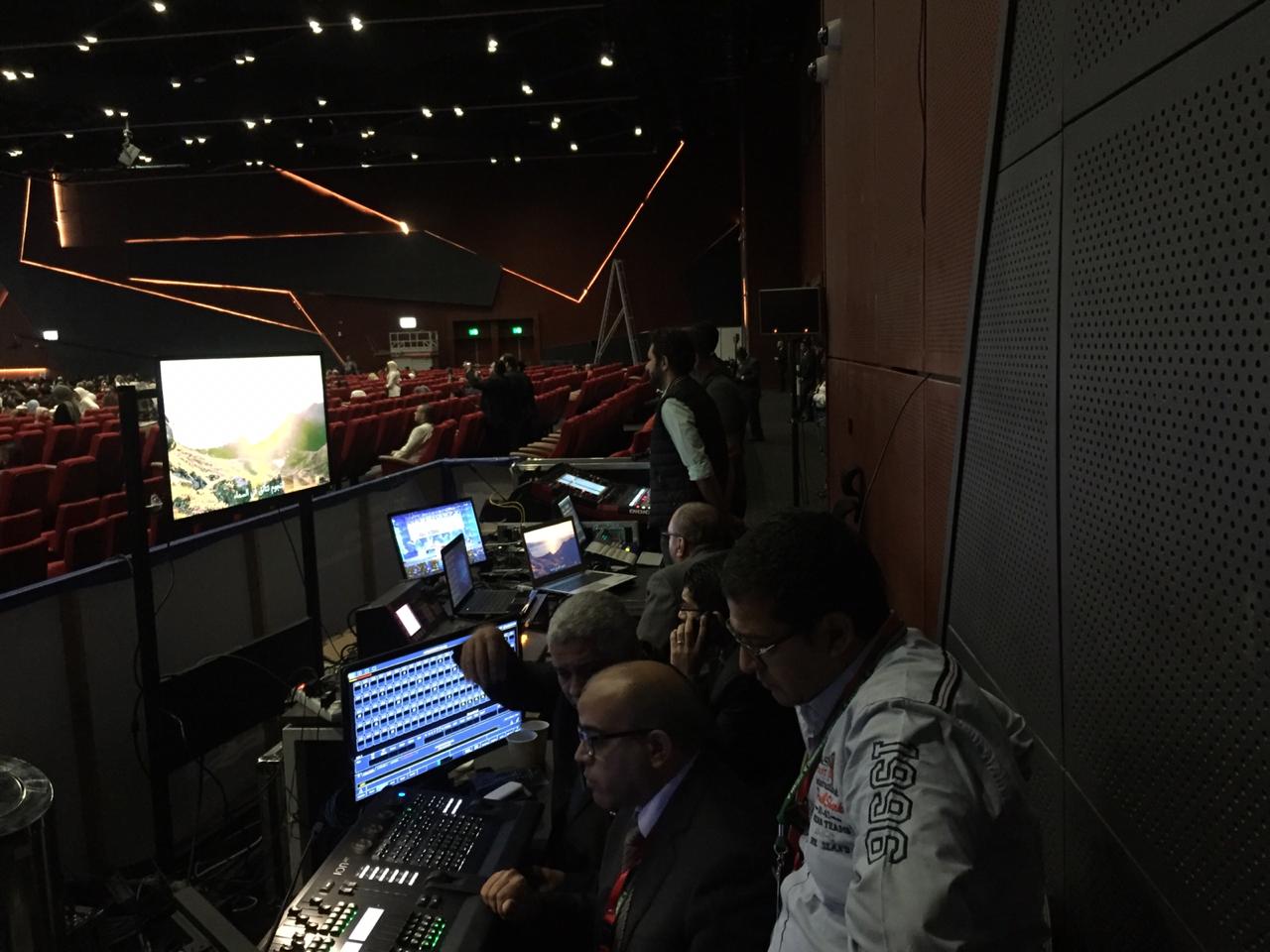 The broadcast infrastructure:
The building is equipped by wall boxes, to ease the operation of TV production, without the need to pull cables from OB Van to camera's location. The cameras can now be connected easily through wall boxes to control room and then connected to OB Van. The infrastructure supports both Triax and SMPTE fiber cameras. Also wall boxes support video and audio signals trans- mission to and from control room.
Fiber optics ring broadcasting network:
All rooms are connected together in both the old and new buildings over fiber ring network.
Pro audio fixed installation (Capital Hall);
Speakers
Line array speakers, we used D&B Y-series for main left & right Arrays, T-series for center array.
The latest Array processing technology provided by D&B to ensure optimal tonal balance across the whole venue. V-series as point source speakers for delay left, center & right. T-series was again used but as point source speakers for front fills.
30 D amplifiers were located at ceiling along with Ds10 Dante interface, which ensures reliability using primary & secondary network for backup as well as manual AES break switch as another backup.
Digital Audio Console:
The DIGICO SD9 audio console was used with optical connection to SD-Rack, running more than 150 meters from FOH position. An Orange box from Digico was added to interface with our Dante network.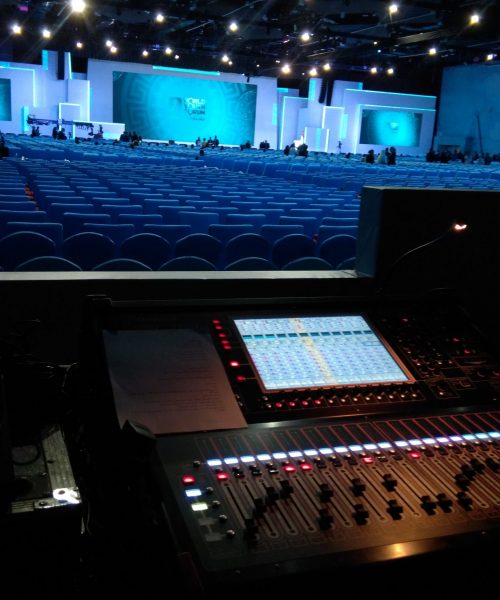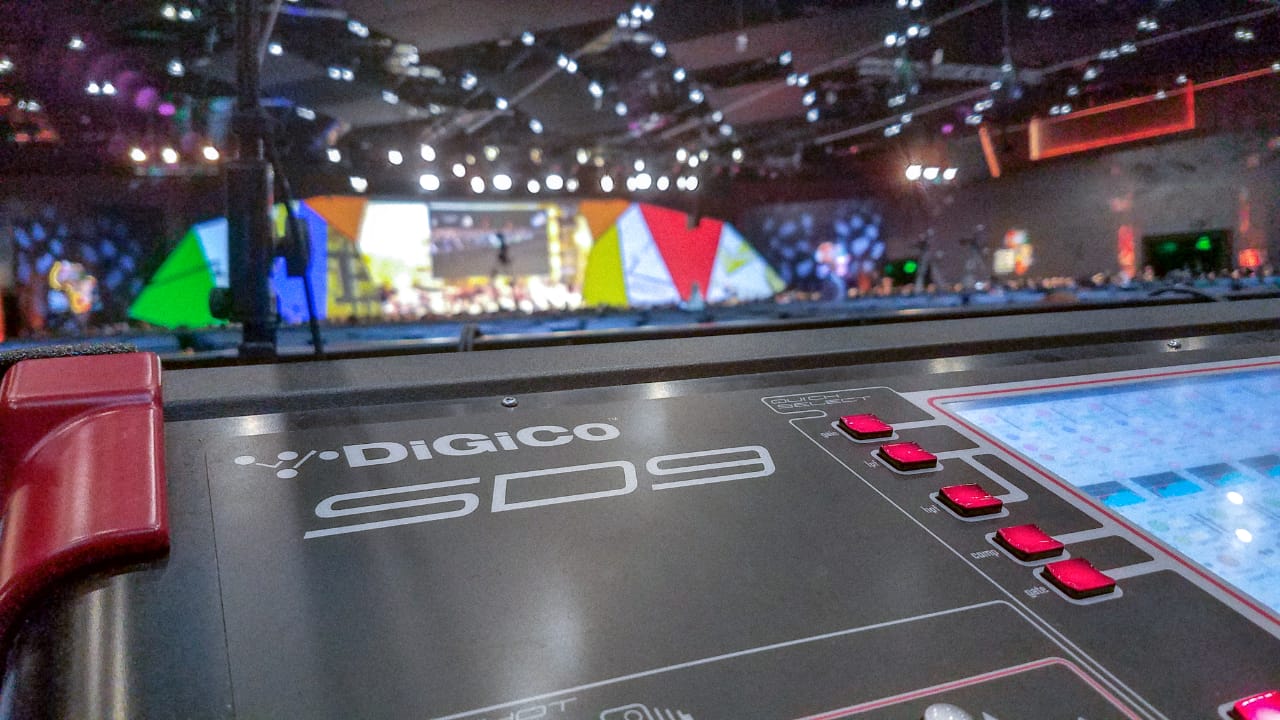 Microphones and IEM systems:
Sennheiser Digital 6000 system wireless microphones with Dante were used, 38 channels were needed only in this venue, thanks to Sennheiser's new technology of inter-modulation free design, which allowed us to use lots of channels in a very narrow frequency range.
Additional 16 channels of wireless In Ear Monitors were installed using Sennheiser system 2000.
The whole system can be controlled and monitored through a Laptop, using R1 for D&B speakers, WSM for Sennheiser wireless systems, online Digico software for audio console and Dante controller for Dante network.
Thanks to the ring network, we can control, monitor, send and receive any signal between the old building and the new extension, or even between different halls.
Lighting
Professional theater lighting for the Capital hall, we supplied and installed two main parts.
• 131 LED lighting fixtures from Coemar.
• Lighting mechanism, fixed traces and motorized hoist
from Desisti, Lighting console from ETC. Lighting installation;
• DMX cables.
• DMX splitters.
• Electric cabinet.
• Hoist control cabinet.